January 30, 2018
NTD Interview





January 16, 2018
CNN Interview - Part 1



January 16, 2018
CNN Interview - Part 2



January 16, 2018
Press Conference



January 16, 2018
Press Conference



October 24, 2017
CNN Interview



October 18, 2017
CNN Interview



October 10, 2017
i24News Interview



October 6, 2017
The Epoch Times Interview



September 27, 2017
RT America Interview



September 26, 2017
NTD Interview

Silicon Valley: Disturbing by Design
May 25, 2018
Shawn Steel


California Committeeman, Republican National Committee


Google knows where you live, how you earn a living, what you do for fun, and who your friends are. And it wants to know more.


An internal company video obtained this week by The Verge reveals the company's plans for total data collection, in which "Google helps nudge users into alignment with their goals, custom-prints personalized devices to collect more data, and even guides the behavior of entire populations." Titled the "Selfish Ledger," the video envisions a world in which Google's artificial intelligence programs harvest data from its users. If Google doesn't know your weight, its Selfish Ledger will 3D-print one.


Hop on the scale, fatty.



From pixel-tracking and shadow banning to restricted viewing and content filtering, Alphabet, Amazon, Google and Facebook hold a terrifying power to restrict dissenting opinions, engineer behavior and control our lives. These all-knowing tech companies already implement information controls that censor political thought.


Google maintains an unbreakable 90-percent monopoly on worldwide search results. That dominance has inspired a growing number of conservatives to call for the federal government to use anti-trust laws to break up the tech oligarchs. Perhaps it's time that the Anti-Trust Division in Department of Justice take a long hard look at Silicon Valley monopolies and do its job to protect Americans.


Right now, Google helps advertisers, marketers and "third-party creatives" setup their own covert surveillance operations to harvest user data. With pixel tracking — the practice of embedding a tiny one-pixel-by-one pixel image in an email — anyone can identify when, where and how you accessed your email.


But the future is even more disturbing. Amazon has filed patents that would allow its Echo devices to listen to its users' conversations. How exactly does trust-busting stop this surveillance?


"The Soviet Union could only have dreamed of such manipulative power," writes Allum Bokhari, senior technology correspondent at Breitbart News, a frequent target of tech censorship. "No other organization in history has had the power to shape opinion, control public discourse, and influence democratic voters."



Censorship seems ingrained in Silicon Valley culture and manifests itself in many forms. The most brazen: directly deleting dissenting reviews. Last year, Amazon came under fire for deleting nearly 900 one-star reviews of Hillary Clinton's book, "What Happened." Meanwhile, conservative book authors have been complaining about Amazon's mass deletions of favorable reviews for their works.


If Facebook doesn't like your politics, it can censor your speech by limiting the audience – even when people have subscribed to your content. Last September, pro-Trump online commentators Diamond and Silk began noticing their videos weren't reaching their 1.4 million Facebook followers. Ignored for months, the pair were eventually told that their content was "unsafe to the community" and therefore subject to restrictions.


"This decision is final and it is not appealable in any way," wrote Facebook, which has a two-thirds market share of global social media use, to the sisters.


Just as devastating as direct censorship, Facebook and Google can alter their algorithms in ways that decrease traffic for conservative outlets. Right-leaning Rare.us once generated 22.5 million unique visitors, but was knocked out by changes to Facebook's News Feed algorithm. When conservative radio host Dennis Prager started gaining millions of views for his PragerU video series, Google-owned YouTube responded by placing age restrictions on its content.


Earlier this year, Project Veritas exposed Twitter's shameful practice of shadow banning conservative speakers. Users under a shadow ban continue to post content unaware that it's not being delivered to the public. The company has doubled down on this content restriction, announcing a new policy that will hide all tweets from "trolls and harmful users."


If all else fails, tech giants retain the right to deny you service. Rep. Marsha Blackburn discovered last fall that her pro-life views were not allowed on Twitter. This month, Google stopped all ads in advance of an Irish referendum on the country's constitutional amendment recognizing the equal rights of the unborn. Pro-life campaigners say that has hampered their ability to communicate directly with voters.


Remember two decades ago when Google promised to always provide users with unbiased and objective content? Even three years ago, Google still claimed to adhere to its "Don't Be Evil" manifesto. At least, they've dropped that pretense.


"We understand if this is disturbing," Google's X subsidiary said in a response to the Selfish Ledger video. "It is designed to be."


For the explosive growth of power by the new tech oligarchs it is time for the anti-trust division of Department of Justice to review these Monopolies with serious anti-trust consideration.



Dana Rohrabacher's conservative track record is as consistent as it is long
May 23, 2018
By
Michelle Steel

For most of my life, I have known Rep. Dana Rohrabacher (R-Costa Mesa) as a trusted friend. He is the godfather to my second daughter and an unwavering advocate of my career in public service.
Besides serving as President Reagan's senior speechwriter, and then as a leading Reagan-conservative voice in Congress, his service to our beach communities has been unparalleled. Unlike many congressmen, he lives in his district and raises his 14-year-old triplets there.
During his time on the Foreign Affairs Committee, Rohrabacher has defended against human rights abuse throughout the world. He has been the leading advocate for Christians suffering in the Middle East, facing virtual annihilation, and has defended Israel and its capital, Jerusalem, since before it was politically OK to do so.
During his three decades of service to his country and his district, Rohrabacher has never taken the easy way out when it came to defending his convictions. He challenged any supposed-Republican backing oppressive tax increases or federal regulations, even when it could have hurt him politically.
He has consistently supported defunding Planned Parenthood, opposed federal control of education and supported the rights of small business owners. Additionally, he has been a longtime opponent of the illegal "sanctuary cities," providing a platform for me, and others, to rally against these destructive policies. His long and consistent track record has earned him coveted influence and respect among his colleagues in Congress on both sides of the aisle.
Sadly, his onetime protégé has recently become his greatest source of disappointment. Scott Baugh, once declaring he would never run against his friend and role model, waited until the last hour of the last day to file against Rohrabacher, proving definitively that opportunism sometimes has no limits.
I have known Baugh for over 20 years. I was introduced to him during his bid for California assemblyman — a campaign I wholeheartedly supported on Rohrabacher's recommendation. In fact, were he honest, Baugh himself would likely tell you he owes his career in politics to Rohrabacher through his support and guidance.
It is with great sadness that I have observed Baugh's decline following his five years in California's Assembly. His legacy now is riddled with Fair Political Practices Commission complaints and fines. Clearly, these are not good attributes for taking on the Democrats in Congress and, most importantly, for ensuring the integrity of California's 48th seat.
Today, I join my fellow Orange County Supervisors, the majority of local assemblymen and women, and the state and local Republican Party in encouraging my constituents in Newport Beach, Costa Mesa, Fountain Valley, Huntington Beach and Seal Beach to support Rohrabacher. He is, quite simply, the best man for the job.
MICHELLE STEEL is a member of the Orange County Board of Supervisors.

Trump asks anti-sanctuary Los Alamitos, Orange County officials to White House to talk immigration
May 11, 2018
By
Roxana Kopetman
|
rkopetman@scng.com
| Orange County Register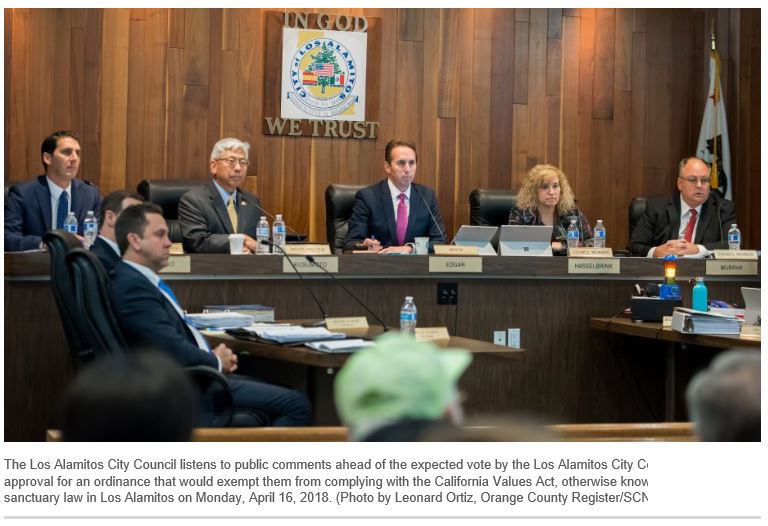 President Donald Trump wants some elected leaders from Southern California who have pushed against the state's sanctuary laws to come to the White House to talk about immigration.
To that end, he's invited Los Alamitos Mayor Troy Edgar, Councilman Warren Kusumoto and Orange County Supervisor Michelle Steel to a meeting at the White House next Wednesday. The three are part of a group of officials invited to sit down with Trump for a talk about a growing anti-sanctuary pushback among cities and counties in the state.
"Warren and I are very honored to get this invitation. It's incredible to have this opportunity," Edgar said Friday.
"The president asked us to provide stories and an update on what's going on the ground, and consider suggesting what they can do to help us further," Edgar said.
Los Alamitos' recent
vote to exempt itself from the California Values Act
, which limits cooperation between local and state law enforcement with federal immigration officials, launched a broader anti-sanctuary movement. Elected officials in more than 35 cities and counties have voted to oppose the law since
Los Alamitos' initial action March 19
.
Also attending will be Escondido Mayor Sam Abed and San Diego County Board of Supervisors Chairwoman Kristin Gaspar, among others, Edgar said.
Steel, who introduced an anti-sanctuary resolution on the county level within days of Los Alamitos' action, was the only elected official to greet Trump when he arrived at Los Angeles International Airport in March.
"It was a great privilege to be invited to meet with President Trump to discuss the danger these 'sanctuary' laws create in our communities and I look forward to an open and proactive discussion," she wrote in an e-mail.
A confirmation of the meeting was sent to elected leaders on Thursday. A White House official wrote that the president "is excited to hear your story and get your perspective." The California group will be joined by Cabinet and senior White House officials in the West Wing, including U.S. Attorney General Jeff Sessions, Edgar said.
As mayor of Orange County's second smallest city, Edgar said he's hoping the federal government will intervene in a
lawsuit filed by the American Civil Liberties Union of Southern California
. The ACLU alleges the city's new ordinance violates state law and is a waste of taxpayer dollars.
The lawsuit could cost Los Alamitos – population 11,700 – as much as half a million dollars, Edgar and others have said. A GoFundMe "Mayor Edgar's Stop Sanctuary Law" page, which aims to raise $100,000, netted almost $22,000 from 290 donors as of Friday.
A number of cities and counties opposed the SB-54 bill, written by state Sen. Kevin de León, while it was under consideration last year. After it became law this year, Los Alamitos was the first and only city to pass an ordinance saying it would opt-out, arguing that the state law is an attempt to override the federal government's authority on immigration matters.
The Orange County Board of Supervisors soon followed by saying it would join a
federal lawsuit against California for three new laws
to protect unauthorized immigrants. The city of Huntington Beach, better known for its surf culture, voted in April to
file is own lawsuit against California.
President Trump, pleased that some in liberal California don't agree with Democrat-controlled Sacramento, shared his enthusiasm on Twitter.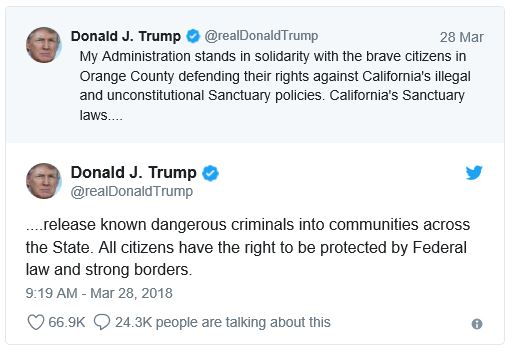 At least one anti-sanctuary Tweet was widely criticized, though, for the president's use of the word "breeding," seen by some as racist and a disparaging remark toward Latinos.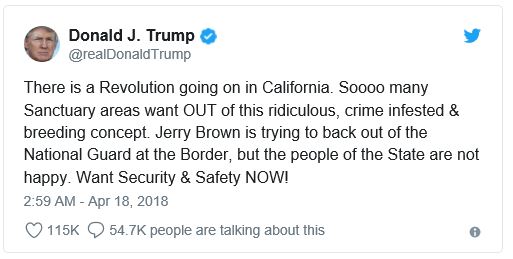 More than 35 other jurisdictions followed Los Alamitos' vote with their own actions, mostly in the form of resolutions and some by filing amicus briefs with the federal lawsuit against the state. They include San Diego County and
Newport Beach
.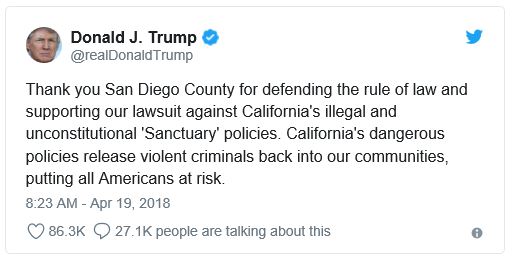 The latest to oppose sanctuary policies include cities of
Santa Clarita in Los Angeles County
and
San Jacinto in Riverside County
and the counties of Butte and Mariposa.
So-called sanctuary laws, such as California's law to limit when local police notify federal immigration agents about people in custody who are potentially deportable, are creating disparities across the nation on who is arrested or deported, according to
a newly released report by the Migration Policy Institute
, a think tank in Washington D.C. that studies migration and refugee issues.
"(The) unevenness in the enforcement landscape threatens a core principle of the U.S. constitutional system—federal pre-eminence in immigration—with severe implications for effective law enforcement relationships and public safety," according to the report released Tuesday.
The law specifically mentioned in many anti-sanctuary ordinances, SB-54, has been controversial from the get-go. And
during the election season
, many politicians and wanna-be politicos are making sure to let their prospective constituents know where they stand, pro or con, on the issue.
Edgar, of Los Alamitos, said he is hopeful that this latest move, an invitation to the White House, will lead to more cities "to get on board and send a message to Sacramento and Gov. Brown that they've overstepped their bounds regading the Constitution."

The Conservative Movement: Agony, Revolution, and Triumph
March 01, 2018
By Shawn Steel

A NATIONAL POLL TAKEN SHORTLY after Donald Trump's victory found that 85 percent of Americans believe that the country is more divided than in recent years — this, before the Women's March on Washington, DC, the appointment of a special prosecutor, Charlottesville, Alabama's US Senate special election, and the landmark Tax Cuts and Jobs Act. The narrative is inescapable — whether you come from the right, left, or center.

Something about the current division seems greater — more irreconcilable — than any recent past disruption in American unity. Blame the other side. Attribute it to media echo chambers and social media silos. But none of that gets us any closer to closing the gap between "I'm with her" and "lock her up."

"It's a sign of the times, but one of the things I'm struck by," FiveThirtyEight contributor Dan Hopkins, an associate professor of government at the University of Pennsylvania, observed of Alabama voters, is "the disconnect between the unfailing kindness people showed to me personally while they were filling out the survey and the harsh, sometimes unprintable words they had for the other party and its candidate."

Arnie Steinberg's name doesn't stand out as a conservative icon. But, among those big-name, recognizable political players, Arnie's is the name to drop.

Over his lifetime, he has been counted as a close, personal friend of legendary members of every facet of the vast rightwing conspiracy: from theorists Milton Friedman and William F. Buckley Jr. to firebrand conservative politicians Barry Goldwater Jr. and Dana Rohrabacher. He helped advise some of the last true statesmen, US Senator James Buckley and Los Angeles Mayor Richard Riordan, and tried — unsuccessfully — to steer actors like Clint Eastwood from making the plunge into politics.

In Whiplash! From JFK to Donald Trump, a Political Odyssey, Steinberg shares the story of his life — a Jewish kid from Fairfax who became a giant in the political intellectual community. He takes readers through the agony, revolution, and triumph of a political movement.

Steinberg and I met as teenage Republican activists. He was mobilizing kids at Fairfax High School while I was doing the same at Van Nuys High. Most of his life, Steinberg's business card has read "strategist," which doesn't fully convey the extent of his influence shaping nearly every component of the modern political campaign. He's conducted more than 1,600 focus groups and surveys, authored two graduate-level textbooks, and testified as an expert witness in high-profile trials, including the trial of the Los Angeles police officers who beat Rodney King.

"Steinberg's life experiences growing up in the Los Angeles area produced an understanding that led to a developed conservative philosophy that is spelled out in his book," writes author Wayne Thorburn. "It is a tour de force for those who wish to better understand how the conservative movement developed and where it is at the present time."

Arnie's resume alone is sufficient to make his lengthy memoir compelling. Joe Mathews, a former Los Angeles Times reporter and now California editor at Zócalo Public Square, complained that he couldn't review Arnie's book because he "didn't write one book. He wrote 10 books, and stuffed it into one." The book is to be appreciated even for those who, in Mathews's words, find "the Trumpian sympathies he expresses revolting."

Conservative readers will immediately appreciate the inside baseball of how Steinberg skillfully guided GOP campaigns in what are now considered hopelessly blue coastal states. Angelenos get a meticulous account of the city's dramatic political and demographic evolution over the last half-century. Far-left Democrats will relish at Steinberg's internal struggle over helping some politicians: "After electing Bob, I would ask myself: did I create a Frankenstein?"

He offers lessons in loyalty. When Dana Rohrabacher jumped in as a late entrant to a race for Congress, Arnie had already been retained by one of Dana's opponent. Without being asked, Arnie returned the $50,000 retainer paid in 1988 dollars. Dana believes that action was the single biggest factor that led to his first win.

If all that Steinberg's book achieved was an honest telling of the inside story of 50 years of political campaigns, it would be worth the read. Arnie's side stories and special attention to the relationships he developed over the years are fascinating mini-stories in themselves. However, the true value of Arnie's brutally frank and candid tone is that it offers deep insight into the principled conservative worldview and a chance for a constructive way past our political stasis.

"I started political action circa 1960 with John Kennedy; and now we are in the twenty-first century with Donald Trump," Steinberg writes. "Given the parallels between then and now, and a generation fighting the same battles, I feel as if I've been whiplashed by a time warp."

Are there two more incongruous political figures than elegant Democrat John F. Kennedy and unpolished Republican Donald Trump? That the same person can draw lines over a lifetime between these two polar-opposite political figures makes Arnie Steinberg's memoir truly thought provoking. On those issues of greatest division — Black Lives Matter, immigration, and social justice reform — Steinberg's philosophy should stop and make progressives think.

When millionaire San Francisco 49ers quarterback Colin Kaepernick first knelt during the national anthem, he did so in the name of protesting systemic abuse of power by law enforcement and prosecutors within the US justice system. He may have grandstanded, but he put a spotlight on the deep wounds in our criminal justice system.

"In our judicial system, it's not whether you are guilty, but how the legal process is pursued." That's the Jewish Republican political strategist's words, not the African-American football player's.

"Our criminal justice system is anything but conservative; it is completely broken," Steinberg adds. "Government fails to effectively perform its classic and basic functions of protection and justice; we have too many laws, and selective enforcement breeds disrespect for the law."

In Whiplash!, Steinberg artfully describes why every American should be concerned by prosecutorial misconduct. When prosecutors weaponize their power, no one is safe. Steinberg's libertarian distrust of government has been accentuated by the prosecution of his friends and clients, in particular Congresswoman Bobbi Fiedler and Assembly Republican Leader Pat Nolan, as well as his own near-bankruptcy-inducing fight with the California Coastal Commission.

"A Soviet-style LA County prosecutor in 1986 went after my client, Congresswoman Bobbi Fiedler, for a nonexistent crime, the case was thrown out of court, but Bobbi's political career ended, and Democrat Alan Cranston reelected," Steinberg shares.

What many limited-government conservatives have forgotten is that the innocent are often destroyed by fighting the charges. It can take everything you have to defend yourself from the limitless purse of a government prosecutor.

"I was close to many top law enforcement officials and believed many cops had a tough job," he writes. "But some in law enforcement failed to understand that ordered liberty required a minimum, not a maximum, of order."

When Assembly Republican Leader Pat Nolan was prosecuted in the mid-1990s, the US Attorney was able to pressure a staff member to testify against Nolan. He was presented with the option of 24 months in jail or taking a chance at trial, which could mean "you will not see your three children graduate from high school."

The playbook for headhunting prosecutors has remained unchanged because it has gone unchallenged. Apply the pressure to family members or underlings with little power and minimal resources. Go for the big headlines and convict in the press. Search for any leverage even if on unrelated charges. Offer the deal.

We've traded truth and justice with a game of "let's make a deal." General Michael Flynn recently agreed to accept a felony plea to the charge of lying to the FBI, despite sworn testimony from the former FBI director that he believed the general didn't lie to the FBI. Did Flynn cut a deal simply to avoid an expensive legal battle? More importantly, if this judicial deal-making can happen to a former general turned national security advisor, it can happen to anyone who runs afoul of law enforcement, especially those at the margins who may lack money, power, or influence.

While Republicans will draw parallels to Robert Mueller's pending investigation, Steinberg connects his experiences with the clear racial inequities associated with the justice system. "I gained new sympathy for the underclass in America, and the way in which many poor defendants are railroaded into plea bargains," Steinberg confesses. "The United States has roughly 5 percent of the world's population but nearly one-quarter of its prisoners. The prison population is disproportionately African-American and Latino."

He admonishes law-and-order Republicans that "[c]onservatives must continue to pursue futurist issues, such as the movement to reform and overhaul the broken criminal justice system," stating that, "[p]eople who smoke cigarettes, drink alcohol, use marijuana, or even partake of hard drugs should not be criminals. If someone drinks and drives, that's another matter. But to criminalize vices is contrary to conservatism."

Progressives can hardly claim moral superiority on criminal justice reform, a point that's not lost on Steinberg. "As government — largely as a result of the progressives — criminalizes more and more of what we do and how we act and even what we say, what do all the laws and regulations and court decisions produce?"

I have often wondered why Steinberg didn't join a giant DC public relations firm to make a lot of money, as many of his contemporaries did. He was always far more interested in big ideas than making money or manipulating power.

"In politics, many conservatives are caught up in who wins or loses a particular election," Steinberg writes. "First, they simply are too involved in the political process, when the real battle relates to philosophy, values, ethos, culture, ideas, and policy, and young people and education."

This is no doubt the indelible mark left by Steinberg's first big campaign: James Buckley's improbable victory as a third-party candidate for US Senate in New York. He learned from his Buckley days that the biggest donors and the most influential lobbyists always serve the interests of the crony class, which demands preferences, set asides, loopholes, and access.

"We believed in ideas and the candidate, we were not looking for power or patronage," Steinberg recalls in the book.

Arnie's big campaign innovation was to connect a candidate's schedule to the nightly news. As one of Buckley's campaign advisors, he coupled the daily schedule with the news cycle. If there was a controversy in the Bronx, Buckley showed up. As a third-party candidate, Buckley received substantially more earned media that his two opponents. This seems obvious today — only because Arnie made it obvious.

Another once-obvious observation: The seemingly incongruous truth that principled ideological differences often breed political civility. Arnie was struck that Buckley was one of the most affable people he'd ever met, all while staying disciplined to his core principles and values.

"Many conservative candidates could have learned from Jim's affable style: he would not seek a confrontation, and he could take a hard-line stance with cordiality. He smiled easily, spoke softly, and did not seem angry … because he was not angry."

Marcus Aurelius long ago reminded us, "How much more grievous are the consequences of anger than the causes of it."

"Americans are more divided than ever, gridlocked over social issues, race, gender and the economy," the Associated Press proclaims in its "Divided America" multimedia series. "Bathrooms have become battlefields, borders are battle lines. Sex and race, faith and ethnicity […] the melting pot seems to be boiling over."

All of this feels true, yet none of it is true — not by a long shot.

In my lifetime, each of these metaphors has been acted out in a real way. Bathrooms, bus seats, and lunch counters were battlefields a half-century ago, and sitting at the wrong one could get you beat up, attacked by dogs, or assaulted with a fire hose. Real battlefields. Twenty-five years ago, the Los Angeles melting pot boiled over — with violent riots that destroyed the life savings of largely Korean-American small business owners. Real fires. Have we forgotten that armed bands of Minuteman militias drew battle lines along the border just a decade ago? Real trenches.

"In any dispute," Sayre's law posits, "the intensity of feeling is inversely proportional to the value of the issues at stake."

If the United States seems more deeply divided than ever before, it might just be because we aren't.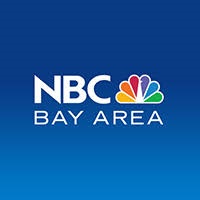 Four Injured in Campus Riot Over Milo Yiannopoulos Speech Sue Berkeley, UC Berkeley
January 16, 2018
By
Olga R. Rodriguez
Four San Francisco Bay Area residents who say they were injured by protesters during a riot ahead of a speech by a right-wing provocateur at the University of California, Berkeley filed a lawsuit against the university and the city, their attorneys said Tuesday.


The plaintiffs say in the suit filed Thursday in federal court in Oakland that officials failed to protect them from being pepper-sprayed and beaten when they were trying to attend a Feb. 1 speech by Milo Yiannopoulos, a conservative commentator. They are seeking unspecified damages.


John Jennings, his wife Katrina Redelsheimer and their friend Trever Hatch, all of San Francisco, say they were at UC Berkeley's Sproul Plaza trying to verify the event had been canceled when a masked protester struck Jennings in the right temple with a wooden stick.


When Redelsheimer tried to help her husband, a group of protesters hit her in the head with a stick and pepper-sprayed them. The group then pushed Jennings to the ground and kicked him, the lawsuit states.


Both suffered concussions, broken or bruised ribs, cuts, burns and welts on their skin from pepper spray, according to the complaint.


"We were assaulted completely out of the blue based on our perceived political affiliation by an angry mob," said Redelsheimer, who has since moved out of California.


When the pair tried to escape over the barricades to get inside the MLK Student Center, police wouldn't let them in, she said.


"The circumstances were such that if the police had done nothing at all, we would have been safer," Redelsheimer said.


The suit says the masked protesters also knocked off Hatch's "Make America Great Again" red hat and pepper-sprayed him, temporarily blinding him. It says a UC Berkeley employee and a UC Davis staffer were part of the group that assaulted the trio.


The lawsuit alleges that police knew there would be trouble and didn't do enough to protect innocent bystanders.


"University officials forced college republicans to rent 60 extra policemen so they obviously anticipated a problem," said attorney Shawn Steel.


Fellow attorney William Becker agreed.


"What you expect is law enforcement to do their job," he said. "You don't expect to walk into an anarchist riot."


Plaintiff Donald Fletcher of Oakland says he and some friends had left a bar and were walking toward campus when they were attacked by masked protesters. Fletcher was beaten unconscious, kicked to the ground and taken by ambulance to a hospital, the suit says.


"Fletcher continues to experience the negative psychological effects of the incident," the suit adds.


UC Berkeley police canceled the speech, citing safety concerns after what had been a peaceful demonstration turned violent when dozens of black-clad anarchists attacked some people in the crowd.


UC Berkeley spokesman Dan Mogulof said the university has not seen the suit.


"We have not yet been served with this litigation, and that means our attorneys have not seen the suit," he said. "So, we cannot comment. Once that happens there will be a statement."


Berkeley spokesman Matthai Chakko said the city had no comment.



Berkeley Sued Over Failure to Protect Yiannopoulous Attendees
January 15, 2018
By Rachel Frommer
Four residents of California's Bay Area injured during the violent University of California-Berkeley protests last year of a Milo Yiannopoulous campus appearance filed a lawsuit Thursday, alleging administrators failed to install appropriate security measures to protect attendees from harm.
John Jennings, Katrina Redelsheimer, Trever Hatch, and Donald Fletcher allege they were physically attacked by masked rioters as they attempted to attend the Yiannopoulous speech in February 2017, with Berkeley "responsible for creating and exposing the Plaintiffs to the unlawful actions of an angry mob of violent anarchists," according to the
complaint
, first
reported
on by the student paper.
In addition to the university, the UC Board of Regents; UC President Janet Napolitano; both the current Berkeley chancellor, Carol Christ and the chancellor at the time of the incident, Nicholas Dirks; student affairs administrators; the UC Police Department Chief of Police; the city of Berkeley; and the Berkeley Police Department are also named as defendants.
The plaintiffs claim that "given the current political climate," Berkeley should have "foreseen that the protest of a controversial political figure such as Yiannopolous could likely turn violent." Yet, Berkeley did not "plan effectively," according to the suit, nor did police "intervene or employ reasonable tactical methods to ensure the safety of the plaintiffs" while the riots were underway.
Officers issued "feckless disbursal orders and empty threats of arrest," according to the complaint, and barricaded areas flooded with protesters, leaving no exit open for plaintiffs and other attendees attempting to escape.
Ultimately, black-clad "antifa" demonstrators
set university property aflame and looted local establishments
, causing an estimated
$100,000 in damage
. The event was cancelled, but just one arrest was made.
Jennings was beaten unconscious, and Redelsheimer and Hatch were "brutally assaulted" with pepper-spray and a flagpole, according to the complaint, which references visual evidence of the assaults, including social media footage of the incidents posted by the attackers.
The plaintiffs are being represented by Shawn Steel of the Shawn Steel Law Firm, who serves as chairman of the California Republican National Committee.
Steel characterized the clashes on campus between students of differing ideologies as "the Left's Jihad against conservatives," in an email to the
Washington Free Beacon
.
He said he took on the Berkeley case as "I believe it is my duty as an officer of the court and as a free speech absolutist is to defend vulnerable student conservatives."
"Universities that cannot protect free speech is a university not worthy of any public support," he added.
His clients are seeking compensation for their medical bills, and for security policies to be altered in order to properly protect "attendees of all future political rallies" in the city from rioters' violence.
Berkeley spokesperson Dan Mogulof declined to comment Monday as the school had yet to be served with the suit.
A UC-San Diego student filed a personal injury and property damage lawsuit against her administration in November 2017, a year after she was
hit by a car
while
protesting the results of the presidential elections on an interstate
. Her complaint holds the university, the regents, the city, and the state responsible for not stopping or controlling the student demonstrations in which she chose to participate, claiming they are liable for the injuries she incurred while marching on the freeway
January 01, 2018
Articles
2018
2017
2016
2015
2014
2013
2012
2011
2010
2009
2008
2007
2006
2005
2004
2003
2002
2000
1996